MyRoadmaps Catalog
MyRoadmaps Catalog
---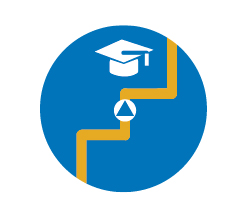 Most undergraduate degrees at SJSU are 120 units. This means, to stay on track to graduate in 4 years for frosh and 2 for transfers, you should be taking on average 15 units per semester that count towards your degree. You may also want to take other units that will help your success such as course support workshops, developmental courses, or courses based on your interests. The MyRoadmaps Catalog includes:
Consult your MyPlanner and major advisor as you develop your individualized academic plan.
---

If your roadmap is not a PDF document, click the "Print Degree" icon on a roadmap page to save a PDF on your desktop or to print a physical copy to write on and take advising notes.    
---
Resources
MyRoadmaps Catalog Video Tutorial
Below and in the navigation menu please find useful resources related to advising and transfer units. 
Advising Hub
The Advising Hub is meant to serve as a resource for all undergraduate students to aid in student success. As the name suggests, it's at the center of many advising and academic support services available at SJSU. This site can be used to locate and access the information and people you need to help you progress smoothly to your degree objective.
Articulation
The Articulation website provides information about how credit earned outside SJSU transfers to SJSU. You can find information about transferring in GE requirements, course-to-course transfer, and credit by exam (such as AP or IB). We encourage students to review their own articulation before meeting with advisors so that questions for advisors are more specific. Remember that we must have official transcripts or test scores reported in your file before you can be given credit.
MyGPS: Graduation Pathway to Success
A suite of technology tools available to help you plan. 
MyProgress | MyCatalog | MyGPS | MyPlanner | MyScheduler
Also, check out California Promise , a program to help frosh graduate in four years and transfers in two. 
---